Superhero Sales Success
Matrix's Superhero Sales Success initiative connects sales superheroes, like you, and their Ad Sales stories of success! Have you been able to utilize Matrix to sell smarter, faster, and more efficiently? Keep scrolling to submit your entry below!
Not only are there rewards to be had from sharing your success story, but you may also learn some savvy tips and tools from other Matrix users too!
Share your Matrix Superhero Sales Success story with us below (be it one or ten!) as to how you have used Matrix to help you sell smarter, faster, and more efficiently. We will select one Matrix Superhero Sales Success story per quarter to win a $250 gift card and complimentary registration to the upcoming Media Ad Sales Summit.
The selected Matrix sales success story, will be compiled into our Matrix Superhero Sales Success Winners Playbook as well as be featured in the Matrix monthly eNewsletter and their own blog post on the Matrix website Blog Page!
SUBMISSIONS DETAILS:
Available to all Matrix/Monarch users

Only complete entries (challenge, solution, key benefits including KPI's, and utilized Matrix function/s) are eligible

By submitting a sales success story, the individual is agreeing to:

be highlighted in the monthly newsletter and featured on the Superhero Sales Success story web page

be used to aid in writing a case study, and

be used as a reference / testimonial

The deadline for submissions is rolling; whereby we will accept ongoing submissions, however at the end of each quarter, one Matrix success story submission will be selected to receive a $250 gift card and a complimentary registration to the next Media Ad Sales Summit.
So what are you waiting for? Start your superhero sales success submission today using the form here.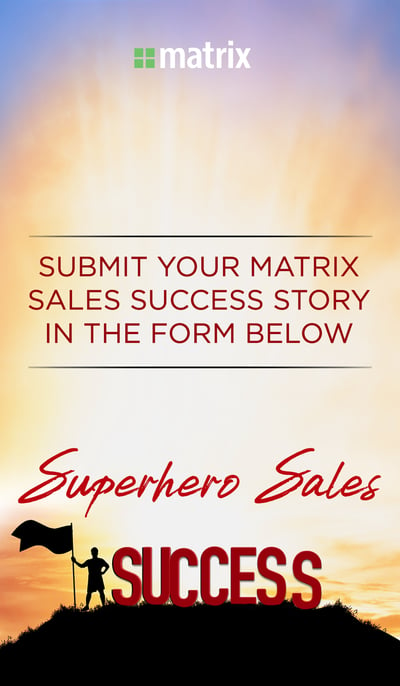 | | |
| --- | --- |
| How do I submit? | All Matrix/Monarch users can submit their success story using the online submission form below. |
| How many success stories may I submit? | Users may submit as many stories as they wish. However, quarter winners will be drawn at the end of each quarter. |
| How are the quarter winners chosen? | Quarter winners will be chosen objectively, provided each success story is submitted fully, with their specific challenge described, solutions including how Matrix helped overcome their challenge and key benefits featuring measurable outcomes. |
EXAMPLES OF SUPERHERO SALES SUCCESS STORIES:
Sales Success Story on Mitigating Churn:
Challenge: The adage states that it costs significantly more to land a new customer than it does to retain an existing one. So, there's value in keeping your customers coming back, however, churn was higher than ever.

Solution:
Ran the inactive report created a contest

Ran the Churn Report – future forward
Key Benefits (including KPI's):
Reduced Churn from 44% to 25%

Established a plan for rescue accounts
Sales Success Story to Increase New Business Development:
Challenge: Discovered the station was not going to make budget from our existing list. To increase sales the focus needed to be on new business development.
Solution: First I defined who the ideal customer is. From there I determined the number of qualified prospects needed to make a sale. I then entered the prospects into Matrix, which managed the number through the account list. Next I was able to run the Activity Report and finally the Revenue Summary Report.
Key Benefits (including KPI's):
Increased sales for the quarter by 2%